Bespoke Courses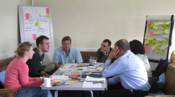 Specialist Areas
Facilitated team Learning
Belbin
HOTS (based on Walt Disney's creative thinking styles)
Strength Finders
Myers-Briggs
Leonard and Campbell leadership styles
Other profiling of teams.

Companies trained for
HBOS
RBS
Sky
The National Australia Group
The Training Tree & Cyrenians
Profile
The Training Tree in association with Cyrenians have developed a novel way of engaging businesses with third sector organisations who work at the coal face of social issues.The integration of CSR with volunteering team challenges and learning and development team days, provides a powerful environment to engage teams, develop learning and support social issues in an empowering and experiential way.
Cyrenians support people who have experienced homelessness or social exclusion. They run a residential community in West Lothian which provides a supportive environment for eight young people. Part of this community is a working organic farm that is used as a platform for work and volunteer experience for the residents. Any profit made through the sale of its organic produce or use of the farm as a team building venue, is used to fund the project.
Offering
Testimonials